International Women's Day was celebrated on Wednesday this week, and protests, parades, marches, and celebrations were held around the world.  The New York Times chronicled some of these activities here.  My first experience with International Women's Day was in Bologna, Italy, in 1974, where women in the nascent Italian feminist movement were welcomed with yellow mimosa flowers (a tradition that began post-World War II).
 


 
March is also Women's History Month.  First proclaimed by President Jimmy Carter in 1980, Congress issued a declaration in 1987 establishing Women's History Month in perpetuity.  Every president following Jimmy Carter has issued a proclamation concerning Women's History Month and the celebration of the achievements and lives of women in the US.  You can find President Trump's proclamation here and the events organized by a range of federal agencies here.
 
March is also CWRU's Spring Break – not the entire month, but today is the last day of classes until Monday, March 20.  Jessica Jurcak and Anna Conboy will continue to staff the Political Science office.  Happy Women's History Month and happy Spring Break to everyone!
 
Cheers,
Karen
 
 
Karen Beckwith, Flora Stone Mather Professor
Chair, Department of Political Science, Case Western Reserve University
---
General Announcements
Check out a few photos from this week's Model UN Conference at CWRU! The first photo features Charles Polinko of CCWA and POSC major Siddharth Hariharan.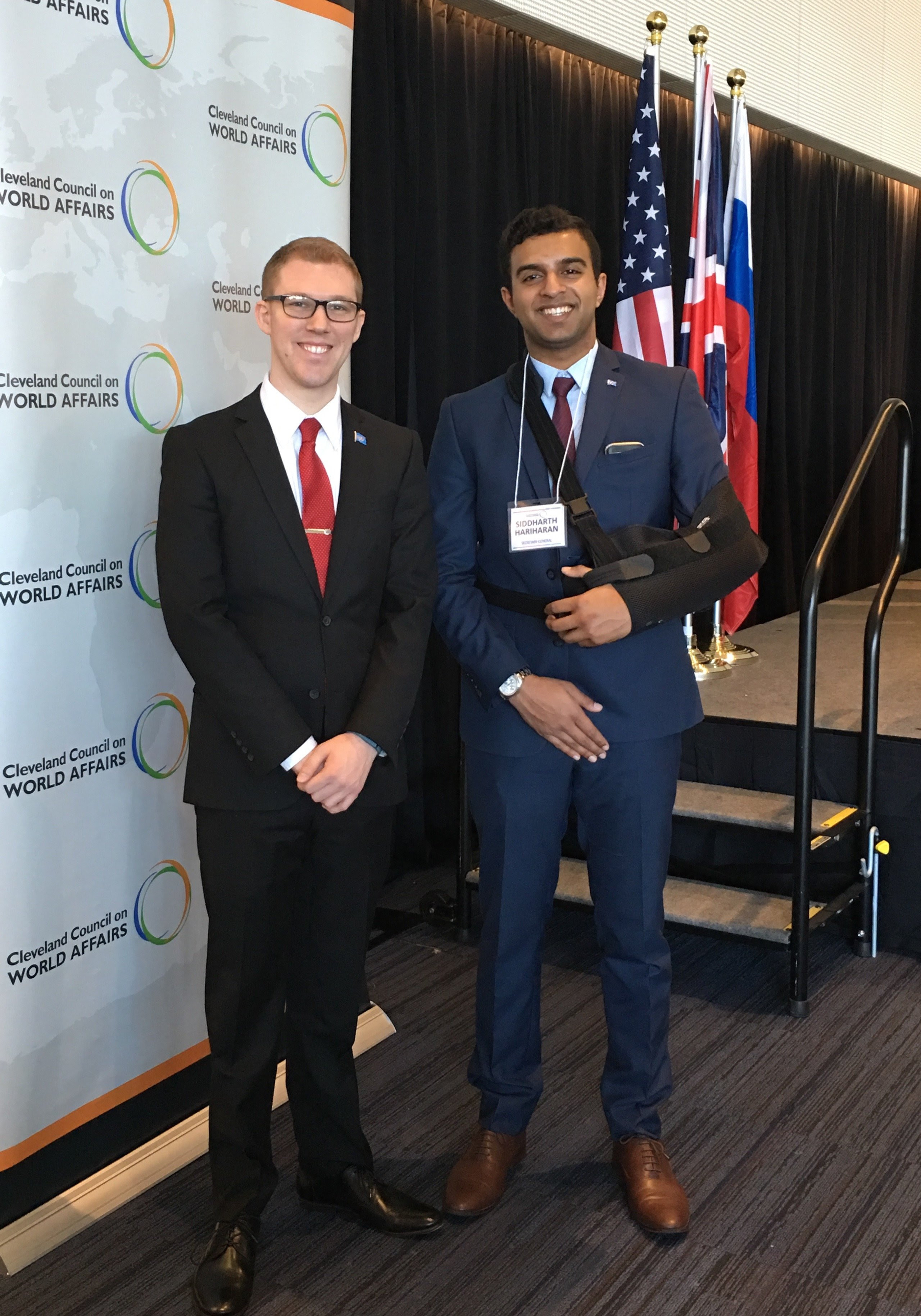 The Journal of Politics and International Affairs is accepting undergraduate papers on topics related to political science, public policy, economics, international studies, and more. The deadline is

March 31

.
Walsh University is accepting papers and posters relating to politics for the upcoming All Politics is Local conference. Registration is due April 7.
Nominations are being accepted for the J. Bruce Jackson Award for Excellence in Undergraduate Mentoring and the Carl F. Wittke Award for Excellence in Undergraduate Teaching.  To nominate a faculty or staff member for one of the awards, visit students.case.edu/awards/. Nominations are due Monday, March 13.
Stay up to date with the department by following our Twitter feed! Check it for day to day opportunities and information!
Like us on Facebook! Our department will be regularly posting events, opportunities, and general information to our page!
Events
Friday Lunch: Nuclear Weapons
March 10, 12:30-1:30p.m., KSL Dampeer Room
Join Emeritus Professor of Physics William J. Fickinger in discussing technology and politics related to nuclear weapons.
Objectively/Reasonable: A Community Response to the Shooting of Tamir Rice
March 10 and 11, 7:30p.m., The Creative Space at Waterloo Arts
This documentary play is based on original interviews with legal experts, social critics, police officers, parents, and other Greater Clevelanders. Student tickets are $12.
Neruda
March 11, 9:15p.m., Cinematheque
March 12, 4:00p.m., Cinematheque
This film chronicles the political persecution suffered by Nobel Prize-winning Chilean poet and Communist Senator Pablo Neruda after he criticized the country's president in 1948.
Advice and Dissent: Gorsuch and the Future of an Independent Supreme Court
March 14, 5:00p.m., The City Club
Join The City Club for a conversation with leading SCOTUS watchers about Gorsuch's nomination, the confirmation process set to begin March 20, and the future of the Supreme Court. Nonmember tickets are $30.
Trump and the Imperial National Security Presidency
March 15, 12:00-1:30p.m., The Landmark Centre
This lecture addresses how Trump's assertions of presidential power in the area of national security are less aberrant grandstanding and more in line with the evolution of previous presidents' positions on executive power. Nonmember tickets are $25 and includes lunch.
A Future That Belongs to Us All
March 21, 12:00p.m., Trinity Cathedral
Join Michael J. Sandel, Ph.D., Anne T. and Robert M. Bass Professor of Government at Harvard University, for a conversation on the most significant moral and political issues of our time.
Artist as Activist: The Green Book and Artist Imani Roach
March 21, 6:00-7:15p.m., TVUC Senior Classroom

Emerging artist Imani Roach will discuss Havens, her new exhibit at SPACES.  Deidre McPherson, curator of Public Programs at MOCA Cleveland, will moderate the conversation and examine how artists can use their talents to make personal and public statements for social change.
The Impact of State Budget Cuts on Northeast Ohio Communities
March 21, 7:00-8:30p.m., Cuyahoga County Public Library Parma-Snow Branch
The state budget has been cut recently. This lecture examines the impact of those cuts on the communities of Northeast Ohio.
Fear and Silence in Burma and Indonesia
March 23, 11:30-12:45p.m., TVUC Senior Classroom
This lecture will discuss the comparative case analysis of two historic national tragedies in Southeast Asia: one in Burma, the other in Indonesia. The two case studies illuminate how the social and political landscape, following traumatic events, can be shaped to allow victims of trauma to thrive, rather than recede into silence.
Improvising IRS Charity Oversight: Responsible Congressional Delegation, Responsive IRS Rulemaking
March 23, 4:30-5:30p.m., Moot Courtroom
This lecture will clarify how the accusations on the professional integrity and political bias of the IRS are unfair or at the least deeply misguided.
Behemoth
March 23, 6:45p.m., Cinematheque
This Chinese documentary depicts the human and environmental destruction caused by coal mining in Inner Mongolia. Age 25 and under tickets are $7.
Drug Problems: Is there a solution to Ohio's Opioid Crisis?
March 24, 12:00p.m., The City Club
This conversation will focus on possible solutions to Ohio's current opioid epidemic and how to save future generations from addiction. Nonmember tickets are $35.
Whose Country Is This? Undocumented Migrant Children and Youth in the United States after the 2016 Presidential Election
March 28, 4:30-6:00p.m., TVUC Ballroom A
Following the 2014 surge of Central American and Mexican children across the U.S.-Mexican border and the 2016 election of a president committed to ending illegal immigration, Professor Susan Terrio of Georgetown University charts the ongoing legal, political and social challenges they face after apprehension by immigration authorities and release into U.S. communities.
 
Internship and Fellowship Opportunities
FairVote
FairVote is one of the nation's leading election reform organizations. With strong support from interns and a national network of volunteers, FairVote's hard-working and energetic staff advances our mission: achieving "the way democracy will be." This internship is located in Washington, D.C.
Conservation Summer Internship
The Conservation Intern will work with our Conservation staff to help create healthy communities through land conservation and restoration. This is a paid internship.
Center for Policy Advocacy Internship
Interns will work with the Government Affairs and Campaign programs. Project topics may include legislative research and memo writing. This is a paid internship and takes place in Washington, D.C.
Center for Strategic and International Studies
A variety of research internships are available associated with Asian and Middle East programs.
The Tim Russert Fellowship
The Tim Russert Fellowship will be awarded to one motivated, passionate graduating senior interested in pursuing a career in political journalism. The Fellowship is a one-year, paid position in the NBC News Washington, D.C. Bureau. The fellow will work on a rotational basis in several areas of the Washington Bureau including "Meet the Press" and the NBC News Political Unit.
Ohio Legislative Service Commission Fellowship Program
Gain experience working for the Ohio General Assembly in either the legislative or telecommunications field. Legislative applications are due April 1 and Telecommunications applications are due April 30.
Wright-Plaisance Fellowship for Study Abroad
This fellowship opportunity is for those interested in pursuing post-baccalaureate study at a university in Europe or South America. Applications are due May 1.
 
Previously posted opportunities can be found on the department webpage. Please make sure to check regularly as to not miss approaching deadlines!
Scholarship Opportunities
A Little Extra…